From
44.900,00 €
NETTO
TRON F90+ – eVTOL
TRON more modules - greater range – better accuracy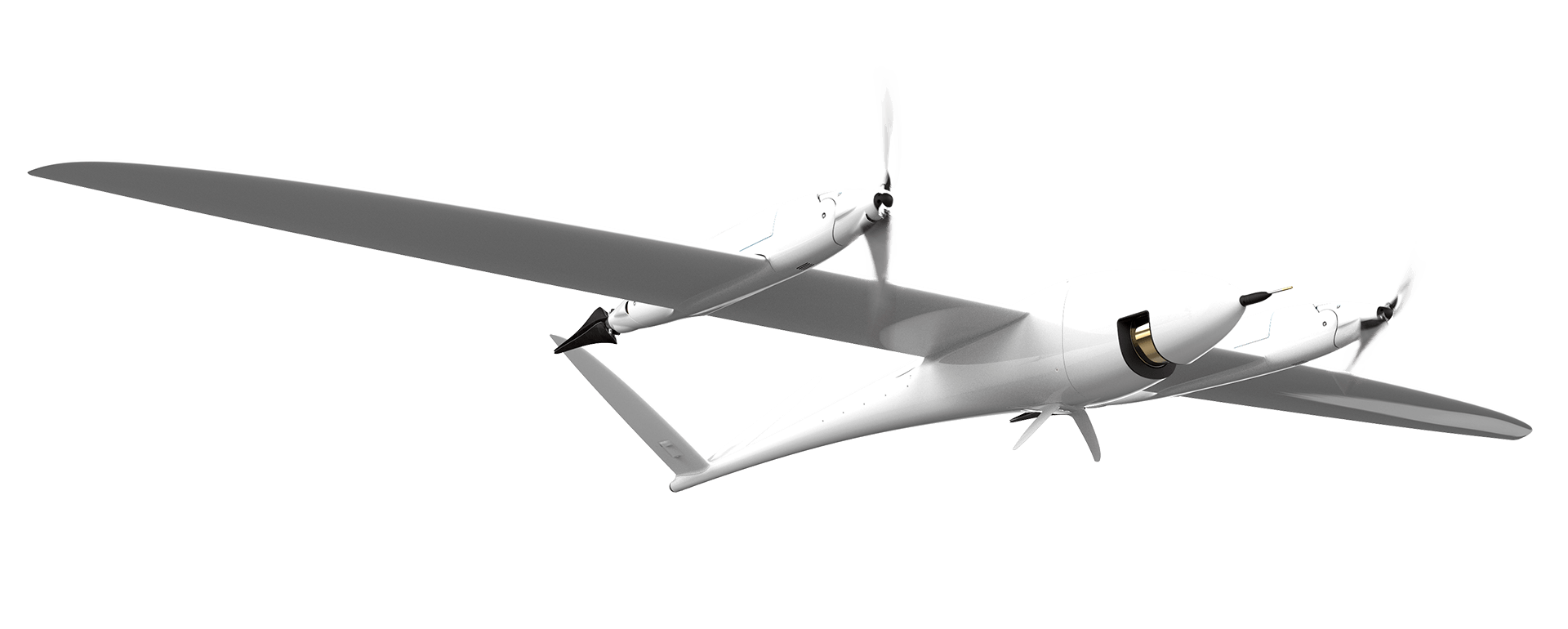 BIG BROTHER - GREAT POSSIBILITIES - ULS + PHOTOGRAMETRY. THE MOST EFFICIENT VTOL UAV FOR PROFESSIONALS IN THE WORLD
Tron F90 + is a professional electric Unmanned Aerial Vehicle (UAV) with high parameters, the use of which provides exceptional performance while maintaining elegant design. The Tron F90 + has been designed for the flexible, fast and secure integration of various sensors (e.g. RGB cameras or multispectral cameras, laser scanner etc.) in order to meet a wide range of growing customer needs. Quality standards combined with an extremely intuitive operating concept and high aerodynamic efficiency (22: 1) make the Tron F90 + something unique among all UAVs currently available on the market.
The TRON F90 + is a VTOL, which combines the possibility of hovering like multi-rotor UAVs (MR), with flight on long distances – like fixed-wing UAVs (A). During Vertical Take Off and Landing (VTOL), four engines are steered up, and during the flight two front engines are tilted forward and two rear engines are tilted back. Forward thrust is produced by two front engines, while the two rear ones are turned off and the propellers folded. Depending on the camera (or other sensor) integrated with the Tron F90 + platform, this model is suitable for a wide range of professional applications in photogrammetry, remote sensing, laser scanning (ULS), agriculture, forestry, environmental protection, etc. The Tron F90 + body is made of fiberglass and wings made of carbon fiber, which ensures its unique resistance to external factors while being lightweight.
PRODUCT FEATURES
Key features of Tron F90 +:
TRON F90 + VTOL – 2in1 – a combination of multi-rotor and fixed-wing capabilities. The easy-to-use system provides flexible usage properties and the ability to map larger areas than was ever possible with conventional multi-rotor (MR) applications. Combining the advantages of multi-rotor and fixed wings in one simple and robust system makes the Tron F90 + the ideal platform for many tasks.
Highly integrated construction – developed as an autonomous UAV for professional use, the Tron F90 + has excellent aerodynamics and durability.
Heavy payload – the solid and shock-absorbing payload compartment can safely hold even the most delicate sensors weighing up to 2 kg. Thanks to the possibility of vertical take-off and landing, the use of expensive and sensitive sensors in the TronF90 + is much safer compared to standard systems. Easy and safe handling- just press the button and Tron will perform the assigned task. The remote control has a transparent layout without confusing switches and rods. Thanks to this, Tron F90+ is trouble-free for the operator.
Excellent data quality obtained from sensors – Tron F90 + has a load capacity of 2 kg. The Tron payload compartment offers enough space to accommodate many types of sensors at the same time and allows you to accumulate huge amounts of data in less time. The eVTOL capabilities, vibration damping and secure housing keep data quality at a high level and protect even the most delicate sensor lenses.
THE F90 + SYMBOL MEANS TRON'S EXPANSION WITH ADDITIONAL MODULES AND FUNCTIONALITIES SUCH AS: PPK, ADS-B AND THE IBASE REFERENCE GROUND STATION.
The most efficient Unmanned Aerial Vehicle in the world of vertical take-off and landing (VTOL) for professional use
Greater accuracy with PPK
Greater telemetry range with a frequency of 2.4Ghz
Georeferencing in the flight thanks to iBase
More security with ADS-B
Easy and safe usage
The longest flight time in its class
MORE MODULES - MORE RANGE - MORE LOAD CAPACITY
Easy and safe UAV
Pressing the button is enough for TRON to complete the planned mission. The controller has a very intuitive interface without unnecessary switches and levers. The Tron F90+ and controller work seamlessly together to automatically accomplish scheduled tasks, while allowing the operator to take the control over the UAV in dangerous situations.
Thanks to the properly designed VTOL by Quantum-System, your investment will never be threatened by the elimination of hand-held take-offs or unforeseen landings.
Durability
The use of carbon fiber parts and a large wingspan (3.5m) allows TRON F90+ to perform long photogrammetric missions even in unfavorable wind conditions, at which other electric UAVs with the same payload would not be able to. Many hours of work TRON F90+ designers devoted to refining the wing geometry which provides a gliding ratio of 22:1
More sensors in the payload compartment
TRON F90+ has a payload compartment designed for larger sensors. This provides the possibility of mounting very different sensors (e.g. cameras or laser scanners), allowing the acquisition of huge data sets in less time.
The VTOL's electrical capabilities, vibration reduction and protective design allow for high-level data acquisition by protecting costly and delicate sensors in the payload compartment
VTOL fixed-wing
The combination of multicopters with fixed-wings into one uncomplicated system gives you many options for mapping extensive areas (e.g. 1500  ha on 1 battery), which has not been possible so far with the use of multicopters.
Our goal was to use the best features of multicopters and fixed-wings to create a complete TRON F90+ VTOL concept. This is our solution for using heavy sensors for special applications.
Highly integrated desing
TRON F90+ was developed as a highly aerodynamic design of autonomous UAV with high resistance.
Each part and subassembly of this BSP has been created with your specific needs in mind. Our designers provide the ability to control each component which guarantees the achievement of the highest UAV performance.
Big payload capacity
TRON F90+ payload compartment ensures vibration absorption, safety and adaptation to the most demanding security sensors (e.g. laser scanner) weighing up to 2 kg.
Thanks to the advanced VTOL system (vertical take-off and landing), your sensitive and expensive recording sensors are safer compared to other competing systems
Technical specification of Tron F90+

Max. Take-off Weight (MTOM):
13,5 kg


Max. Range (Area): 1500 ha (AGL = 100 m)

Command and Control Range:
do 7,5 km


Optimal Cruise Speed: 18 m/s

Wind Tolerance
(ground wind): 8,5 m/s

Wind Tolerance
(in cruise flight): 12 m/s


Transport Case Dimension: br> 177,5 cm x 32,5 cm x 42,8 cm
TRON F90 + PACKAGE INCLUDES:
Tron F90 + UAV
QBase 3D – mission planning software (Win 10 64Bit)
Controller (RC)
ADS-B system (USB ping)
iBase – ground reference station package
4 Telemetry Data Link
Battery + charger
Transportation case
1 year warranty
Technical support (Hotline; Update)
ENSURED COMPATIBILITY WITH:
Metashape (Agisoft)
Drone2Map Esri
Pix4D
Precisionhawk PrecisionMapper
Drone Deploy
Greater precision due to the use of the PPK GNSS measurement mode
Photos' GeoTagging during the flight. Various post-processing options. Compatibility with RINEX.
Greater telemetry range at 2.4GHz
2.4Ghz telemetry provides full control for at least 7.5km on BVLOS flights.
Georeferencing using the iBase reference station
iBase is the basic GNSS reference station enabling relative geotagging precision up to about 2-5cm.
ADS-B warning system
Automatic integration of Live-Air-Trafic-Info with QBase station
DO YOU HAVE A QUESTION? CONTACT US!