CloudStation
Oprogramowanie firmy YellowScan do generowania i wizualizacji chmur punktów LiDAR
Technologies inside: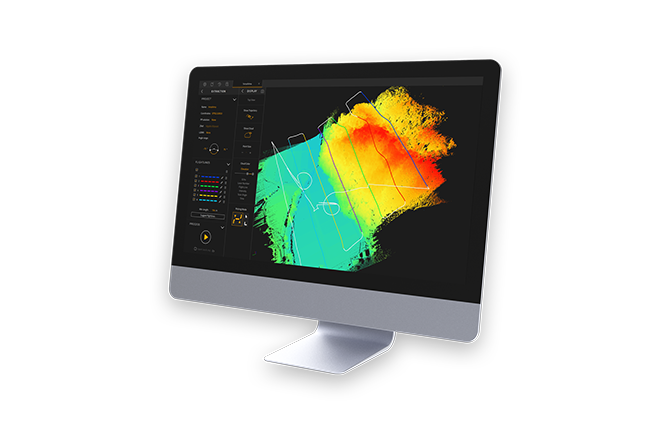 CloudStation
YellowScan CloudStation to kompletne oprogramowanie do genrowania i przetwarzania  chmurz punktów 3D LiDAR. Pozwala ono wyodrębniać, przetwarzać i wyświetlać punkty  z chmury ULS natychmiast po przeprowadzeniu nalotu VTOL. Automatyczne generowanie linii lotu i tworzenie plików .LAS odbywa się teraz za pomocą zaledwie kilku kliknięć. Jest to oprogramowanie licencjonowane, a każdy klient otrzymuje licencję pływającą na swoje stanowisko pracy. Aby umożliwić zdalną pracę w terenie, klient może testować licencję CloudStation przez okres do 30 dni. Dodatkowo oprogramowanie zapewnia wsparcie, konserwację i aktualizacje.
Przetwarzanie chmury punktów LiDAR
ustawienia projektu (układ współrzędnych, profil LiDAR, zakres kątów itp.),
automatyczny wybór szeregów lotu,
przetwarzanie i eksport chmury punktów do formatu LAS (ISPRS).
Opcje wyświetlania chmury punktów

widok z góry lub 3D,
kolor chmury punktów (wysokość, intensywność, echo itp.),
narzędzia pomiarowe,
niestandardowy eksport obrazu.
Specyfikacja techniczna
działa w systemie operacyjnym  Windows 10 i Linux
automatyczne aktualizacje
tryb licencji off-line
opcjonalne dodatkowe jednostki licencyjne
MASZ PYTANIE? SKONTAKTUJ SIĘ Z NAMI!