Agisoft Metashape
Post-processing of photogrammetric data

Agisoft Metashape
Photogrammetric digital image processing and 3D spatial data generation in one software – Agisoft Metashape.
Agisoft Metashape is a specialized software for photogrammetric processing of digital images and generating 3D spatial data. Therefore, it allows generating high resolution and quality orthophotos, based on aerial photography. It is possible to use geotagged data, as well as georeferencing based on points measured in the field. In addition, Metashape allows you to create an extremely accurate Digital Elevation Model, dense point clouds based on photogrammetric data and 3D models. In each case processed data are of high quality and accuracy.
The software is created both for beginners in the field of photogrammetry (due to intuitive design and automated workflow), as well as for specialists (thanks to the ability to adapt the work method to many specific tasks and various types of data, as well as the ability to edit the received products). The images processing process is based on automatic aerotriangulation, based on the method of independent beams and camera auto-calibration.
In addition, the software is compatible with data obtained from a wide range of devices for taking RGB images, as well as with multispectral images from cameras such as for example MicaSense.
What Agisoft Metashape can do?
Areas of application:
survaying, photogrammetry and mapping,
precision agriculture, vegetation supervision,
mining and quarrying,
archeology and documentation,
architecture,
Cultural Heritage Preservation,
game and video design.
Features and capabilities:
photogrammetric triangulation – support for aerial and oblique, as well as short-range,
dense point cloud – creation, editing and classification, export in the common .LAS format,
orthomosaics – generation, georeferencing, editing and exporting in the common GeoTIFF format,
support for panchromatic, multispectral and thermal images, calculation and export of vegetation index (NDVI),
Digital Elevation Models (DEM): Digital Terrain Model (DTM), Digital Surface Model (DSM) – generation, georeferencing, export,
3D models – generation, texturing and exporting in common formats,
4D models – data processing from many cameras, 3D amodels reconstruction in time sequence,
tools for measuring distance, area and volume,
data georeferencing based on control points – GCP,
professional and consumer camera support,
generating very detailed and photorealistic models.
Orthophotomap:
Generated georeferenced orthophoto (based on images geotagging
or georeferencing with respect to control points measured in the field – GCP).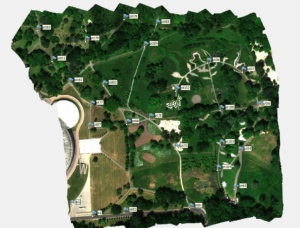 DTM:
Generated Digital Terrain Model with the possibility of measuring distance,
surface and volume.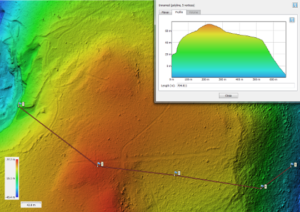 3D-model:
Textured 3D model based on photos –
process used in the documentation of artifacts, sculptures, etc.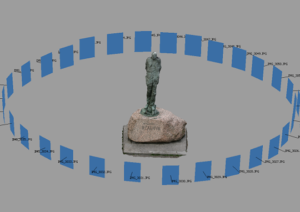 NDVI:
Generation of vegetation indexes (including NDVI),
describing the health condition and the phenological phase of vegetation.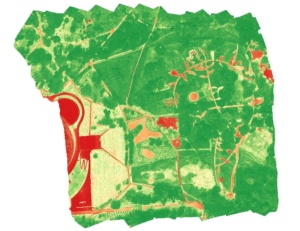 Dense point cloud:
A dense point cloud generated from photos. Classification of the point cloud is possible
by use of the Agisfot Metashape tools. Export ability to the common .LAS format.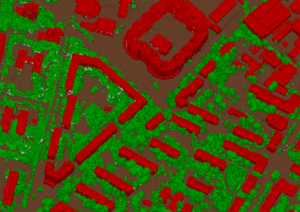 Mesh – building reconstruction
Masking and aligning photos to create the best quality mesh.
Used in architecture.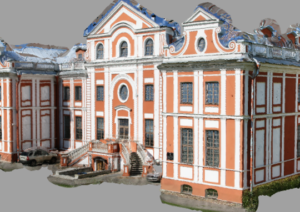 Advantages
short processing time and high quality of products
intuitive design
the ability to customize data processing methos
products edition possibility
data can be processed locally and in the cloud
USAGE TRAINING
In order to adapt to the needs of users, ProGea SKY also offers training in the usage of Agisoft Metashape software.
We invite you to contact us and get familiar with the offer!
Do you have questions? Contact us!